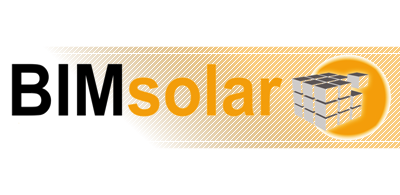 Solar Architecture, Integrated PhotoVoltaics
Join the BIMsolar community to build and win Positive Energy Projects!
Suscribe now!

Self register to join the BIMsolar community for free. Feature and share your projects, lead discussions over every issue linked to solar architecture, BIPV, self-consumption.

Download BIMsolar®

Download BIMsolar®, full 3D software dedicated to solar architecture, BIPV, decision support and BIM for the AEC sector.

BIMsolar online PIM

NEW! Available now!

As one of the main exploitable result from BIPVBOOST project, the new BIMsolar Product Information Manager enables predesigning custom BIPV panels within BIM-ready and PLM perspectives! Enrich your personal database with custom BIPV panels and retrieve them in BIMsolar desktop.
BIMsolar Services

Discover the professional BIMsolar services related to Solar Architecture Modelling, Engineering and Energy transition. Ask for a direct connexion online.

Groups & Chat

Take part in discussions groups and thematic panels, share your experience and chat with the BIMsolar community!
BIMsolar SERVICES
Provided by partners
EnerBIM services and solutions
EnerBIM est un fournisseur de solutions intégrées novatrices et spécifiques, facilitant les échanges entre les technologies et les acteurs du BIM. EnerBIM fonde sa vision du BIM sur 10 ans d'expérience du milieu de l'édition de logiciels et d'applicatifs métiers pour les filières industrielles et la maîtrise d'oeuvre. Nous sommes convaincus que le BIM, défi [...]
Active 11 hours, 7 minutes ago

TOWN: Santiago

Your relation with BIMsolar: I want to use this progam for a work for my college

Profession: Student

Active 2 days ago

TOWN: Santiago, Chile

Your relation with BIMsolar: estudiante

Profession: Arquitectura

Active 1 day, 23 hours ago

TOWN: Santiago de Chile

Your relation with BIMsolar: Trabajos de Universidad

Profession: Arquitectura