FREE BIMsolar® object
ONYX SOLAR – X6 – Glass-glass products with back contact c-Si cells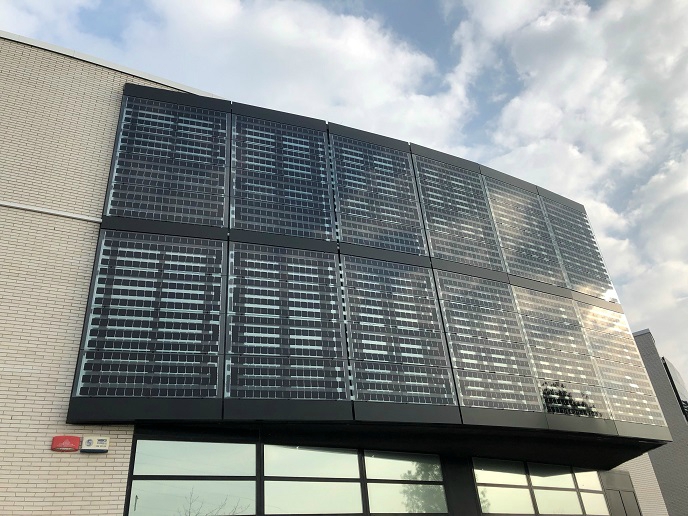 The semi-transparent BIPV module with hidden busbars is applied as a second skin in Tecnalia's office in San Sebastian, Spain.
Layers from back to front: 6 mm extra clear tempered glass / 1.8 mm EVA; c-Si solar cells / 1.8 mm EVA / 6 mm clear tempered glass.
A vertical profile system is mounted in front of the existing facade. The modules are fixated with a clip system.
ONYX Solar Products – Ventilated facades / Roofs
Contact ONYX Solar
---
Add this BIMsolar® object for FREE into your personal database to be BIM-ready!
Description
PRODUCER DATA
---
Definition

Semi-transparent PV rectangular glazing based on back contact 5" c-Si solar cells

Construction unit

Ventilated façade/ Curtain wall/ Skylight/ Shading system

Architectural location

Facade/Roof

Geometrical design

Rectangular semi-transparent glazing

Dimensions

2250 x 760 x 13.8 mm

2212 x 765 x 13.8 mm

Geometrical shape

Rectangular

Materials

Glass, EVA, back contact solar cells

Configuration

Simple laminated glass

Layers

From top to bottom: Extraclear tempered glass, EVA, back contact solar cells, EVA, Clear tempered glass

Frame structure

Frameless/Aluminium

PV technology

Back contact c-Si solar cells

Encapsulation material

EVA

Surface treatments

May be included on PV glazing

Thermal insulation

Common glazing technologies can be used (double/triple glazing, low-e coatings, etc)

Acoustic insulation

Double/triple glazing can be used

Physical features

Similar to other glazing skylights/glazing façade elements

Weight

30 kg/m2

Rigidity

Rigid

Opacity

68%

Mobility

No mobile parts

Active energy features

Photovoltaic glazing that generates electricity with Sun radiation

Photovoltaic power

126 Wp/m2

Passive energy features

Same as other BIPV glazing solutions, depending on the specific application (shading effect, reducing cooling/heating needs) and the additional treatments on the glazing (low-e, etc)

Optical transmittance

27%

Thermal transmittance (U value)

Defined by glazing system used
Specific features
| | |
| --- | --- |
| BIM-ready | Autodesk REVIT specific family (PVSITES) |
| BIMsolar ready | PVSITES database |
| POWER | 192W |
| SIZE | 2212x765x13.8, 2250x760x13.8 |
| CELL TECHNOLOGY | c-Si |
| BENDING | Flat |
BIM features
This product is published to the market as a « BIM-ready » component for Autodesk® REVIT® software and community​.
Table of operational material ready for download and BIM integration (first of all download+install the PVSITES plugins and read documentation):​
---
| | | | |
| --- | --- | --- | --- |
|  CODE​ |  DESCRIPTION​ |  2212*765​ |  2250*760 |
| ​ONYX-X6 | REVIT Family (V2018)​ | | |
| ONYX-X6 | REVIT Family (V2019)​ | | |
| ONYX-X6 | REVIT Family (V2020)​ | | |
| ONYX-X6 | REVIT Family (V2021)​ | | |
| REVIT 2018 Plugins​ | BIPV innovation by CADCAMation​ SA | | |
---
Get more information on CADCAMation BIM pages