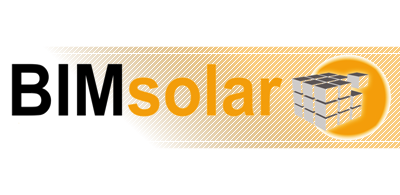 Solar Architecture, Integrated PhotoVoltaics
Join the BIMsolar community to build and win Positive Energy Projects!
Suscribe now!

Self register to join the BIMsolar community for free. Feature and share your projects, lead discussions over every issue linked to solar architecture, BIPV, self-consumption.

Download BIMSolar®

Download BIMsolar®, simulation software in 3D for dedicated to solar architecture, decision support and BIM processes.

Launch a project then share it inside the BIMsolar community.
Become Premium Member (soon)

As Premium member, you receive privileged access to BIMsolar Pro version and Premium services

You will be able to showcase your projects, services and professional expertise and get support

Not published yet

BIMsolar Services

Discover the professional services published from the Premium members, related to Solar Architecture, Engineering and Energy transition, and then ask for direct contact online.
BIMsolar SERVICES
Provided by partners
EnerBIM services and solutions
EnerBIM est un fournisseur de solutions intégrées novatrices et spécifiques, facilitant les échanges entre les technologies et les acteurs du BIM. EnerBIM fonde sa vision du BIM sur 10 ans d'expérience du milieu de l'édition de logiciels et d'applicatifs métiers pour les filières industrielles et la maîtrise d'oeuvre. Nous sommes convaincus que le BIM, défi [...]
Active 2 days, 16 hours ago

Ville: wisches

Votre relation à BIM SOLAR: Etudiant

Profession: Eudiant

Active 2 days, 18 hours ago

Active 3 days, 14 hours ago

Ville: CLERMONT-FERRAND

Votre relation à BIM SOLAR: découverte pour usage professionnel

Profession: chargé commercial Bâtiment